Task 
We are planning to launch many products next year and to start with, we would like to introduce a non customisable tote bag in our product mix. 
Please have a think about where on the website this product should be introduced and what would be the ideal flow for a user to: 
1. Discover this new product 
2. Go through a purchase journey
MOO want to launch a new product to their range. Traditionally

MOO

is known as a custom business and print company. They specialise in being award-winning print experts who care about quality and their value is in their customers being happy
Understanding is key with any brief. 
When dealing with the brief, I need to understand the what and why? How does the current website look and how are things categorised? How does a user navigate to a section and what is the purchase journey?
When doing this, many questions comes into mind:
1. What's the journey like for a new user?
2. How is the website set up for new discoveries? 
They specialise in products such as business cards, marketing materials, stationary, accessories and Small - Medium business products. 
I wanted to understand what customers thought of Moo, so I looked at reviews on their services and look at what items stood out most. Here is what I found:
In general, most talk about how easy it is and how helpful their customer service is. They also spoke about the easy of the website and it's clear that most use the customer services to know more about their order. This is something I will park for later.​​​​​​​
Generally, business cards and print focused items were the main focus on MOO as well as some B2B services to growing businesses. 
This leaves to question why a Tote bag would fit in the product range? And what the need is?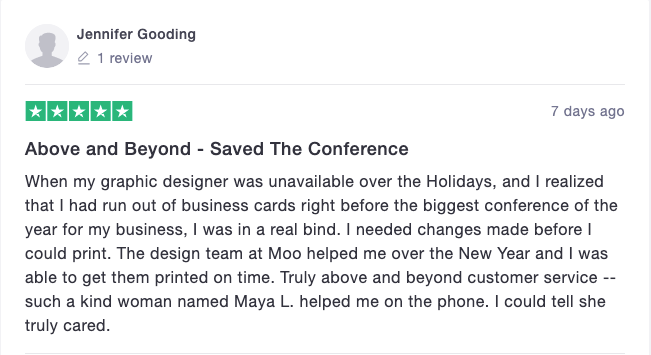 As a new user, the journey through the website is simple. I am curious about the header as it signals that something is new and I click to find out more. To be exact, I click on the image. And this leads to the picture on the bottom left. I discover that Business cards are being marketed to me and as I scroll down, I can see the different types of designs I can pick. 
Based on the main page, nothing really screams out explore or discover, this is because what I see is business cards and not notebooks or other items. These items will be found on in the menu column. 
This can create an issue for a new product such as the non- customisable tote bag -

there needs to be an easier way to find it amongst the other items.
This is where talks with stakeholders would be wise to understand how the product fits with the vision of moo and its business strategy. And also find out where this need comes from and if it's directly related to customer's feed back or based on the competitor market.
Research and assumption testing
This is where research and interviews with stakeholders will be important. what data do they have that can confirm assumptions we may have? And what is the need for the tote bag? Is it to draw a certain audience or persona? And how will this affect the business side of it? 
User testing is also key alongside consolidating and bringing in all the insights from interviews to understand where this problem fits in and who should be part of the solution. 
As much as it is a merchant brief, there's questions about whether social media should be the enabler for this product launch or not
What research has been done to push this product forward? 
Where does the need come from?
This will help bring a list of hypothesis that can be tested through workshop, user interviews, A/B tests and whatever that's needed 
According to Google,

MOO'

s competitive set are ProspectWise , Color Card Administrator, OnPrintShop, Printpeppermint, Vistaprint, Lileo, Whedia Technologies, Picaza Printing Solutions, Powered By Proforma, Inkmonk and Card Isle.
By looking at the competitor market, this could help me understand if print and textile is a current trend amongst print companies.
Competitive Research - Vistaprint
Vistaprint

 is also a prime competitor of MOO, specialising in business cards, flyers, poster, invitation cards and much more. Their range of  print service is wider than MOO .
Vistaprint uses header banners for their new product as well as, the word

NEW

 
in the product menu. Colour is key when it comes to highlighting a CTA for a new product.
vistaprint's value proposition is : 
"Vistaprint offers so much more: a wide range of customisable small business marketing products; real-time access to expert ideas and assistance for people who need a hand; and a simple, straightforward experience for those who know exactly what they want."
In other words, their audience are small businesses who know what they want and want a simple and straightforward experience. Which could suggest why they use a detail menu bar to help users navigate to where they want to go
Tote bag website discovery 
Finding the Totes option was not too difficult as it was in the menu section, the clarity helped in this. I noticed that vistaprint has a range of clothing and bag range which makes them stand out amongst MOO and from the examples they have, it suggests that their target audience can be anyone. Whether it's a small organisation or a small business that wants to give new workers a welcome gift. The price range varies from £6.71 to £275. This will appeal to those that have a tight budget and quantity range
Tote Bag customer reviews
vistaprint on the other hand had comments based on their excellent service and good price and their easy and fast production.
Comments on the towards the Tote bag was that, it was a 'suitable handbag' because of the size and its quality was described as 'unique'.
The painpoints (in blue) were towards the confusion when ordering and also how the misleading info in the blueprint led to order issues for several customers
Competitor Research - 4imprint
Another competitors for MOO's Tote bag product is 4imprint, which came up second on the Google list for 'customisable tote bags'
On their website they state their promotional products and bags is visible. And they include the ratings of each product and a short description of the product and its estimated shipping time in the overlay. However, it's purchase journey is rather confusing when it comes to customising one's print. 
This can be an opportunity for MOO to use to make orders quick and easy for users.
 - Use colours and clear menu header title to make user journey easier for new products
- It is easy to find Tote product and they have a range that varies in prices which helps gather different customers 
 - Second in Google search for 'customisable print tote bag' 
- they state the important information in a clear way through the click overlay 
- However, their purchase journey is a bit complicated and long 
As I don't have data to backup this assumption other than customer reviews, I created two Proto-personas that suggest two types of personas .
Based on my research, I discovered that the main customers for MOO are small-medium businesses and also those who are working on behalf of a business or for their own projects. 
However, for the Tote bag, the user group may vary slightly as the users will be looking for either a batch product or a sample. 
The main audience for the Tote bags are small businesses who want to use it as part of their marketing tool. Size is a key desire from the customer as well as, the price. These two need to be considered for the product MOO wants to launch. 
In addition, it has to be clear how the bag can benefit the user and this can seen shown through mockups where they can see their suppose logo on a bag. And also, choice of colour could also be important for brands that want to standout. As much as MOO is focused on excellent prints, they also need to listen to the key need of their users in order to stand out.
Also, the easiness of the purchase is important and getting the right support while they decide to buy. For a new product, MOO will need to make sure they can answer any question the user has, with the obvious being "why should I buy from you and not another company?"
This is the key value proposition that will not only build trust with the user but also awareness of MOO's services.
It would be best to conduct quick qualitative interviews with users about their views on a tote bag as a promotional item and what would help them with their journey. And what they would look at when purchasing. Having 3 key themes from the insights will help to understand the customer's needs later on in the stage. This process helps test assumptions 
Another way is to have a short survey that aims to find out who will be interested in a tote bag and which demographic do they fall into?

This can be done internally through the data from the marketing team or where necessary. After synthesising the results, personas can be created.
This data should be discussed with stakeholders to understand which is best for the company. Are they after the small time buyers or batch company purchases? Or is the awareness

important?​​​​​​​ 
It's good to understand that users buy into a good product and a good service and aligning this with the company's needs is important at this stage. This helps bring clarity on what the Launch product should focus on.

Should it be on samples? Or should it be on a new feature on MOO? Will it be a limited time product for test purposes?

 
A workshop or user interview with experts within the stakeholders would be beneficial along this process. This could be done both before during the discovery stage and also during the business value research. 
Value Proposition
As a new merchant product it is important that the value proposition is nailed. This will rely on the previous section that speaks about the business values and the user's needs. The value prop must help users discover the product in an easy and seamless way. Let us take out social media as that is the main stream for new product launches.

How will the user discover a new product on MOO?
A common theme with print companies is that, the header is important and the clarity of the menu is key. If a user is searching for a tote bag, they will search it under the appropriate category 
As seen from the example below, the image captions on the right would be a great tool to use for new products as a short description can be provided and the

"shop"

link will drive users to the page
A way to test what works is by doing an A/B test on the header image and also on the menu bar and see how the user navigates the website base on a scenario 
A more obvious route would be to use the header to promote the new item launch with other products. A high quality photograph of the products could be spread out and displayed as the header.
With the two CTA being Shop Tote bags  and Shop all products 
Another route is through Google. MOO's new product needs to be recognised in Google search results amongst other competitors. For a brand that deals with Premium business cards and postcards, it needs to look at where the gap in the market is. 
TALK ABOUT GAP IN THE MARKET AND OPPORTUNITIES 
1. Their products - understanding what their products are
2. Know how the journey is through their website
3. What are they known for? - how it links to the new products
- what value does it have to the user?
- understand more about those that use the bag (the customer)
- look at other websites (print base) and how they bring out their new products
- who is in the market? - who buys tote bags and what the discovery path for the market?
-
who are the customers and what do they do?
- Discover the value prop of the competitors
- what are the customer's pain points?
- try to create some personas
- see what they love and hate about the product/ service
VALUE PROP = VERY IMPORTANT
understand the sense of the market - find faults in competitors 
- figure out touch-points 
w/ stakeholders , communicate value and get data. Advocate for the user's needs.
-1 KEY IS IN THE PROBLEM STATEMENT
write it out like a report
Gathering info on competitors and journey through their websites
-3 now synthesis the data - look at user's complaints on post-it and look at common complaints
cluster them into key themes - understand the key pain-points for the user
identify the gap in the market and opportunities within the gaps 
-4 emphasis on what is important to the user 
- do an ideal user journey map for the MOO website
- if I get time, create sketches and mockups to show where the new tote will be seen
CASE STUDY TEMPLATE
DESIGN PROBLEM
APPROACH
RESEARCH
PERSONA
COMPETITIVE RESEARCH
USER JOURNEY
USER FLOW
SKETCHES
WIREFRAMES